Specialist IT Consultancy for businesses
SEBS IT offers personalized consultancy solutions that address your specific issues. Regain control over your IT systems and enjoy the benefits of the digital era.
Are you finding it challenging to keep up with the rapid pace of IT development and security?
Do you require assistance in maintaining cost-effective and efficient services?
Are you about to make a significant IT investment and need guidance to ensure it's the right decision?
Whether you are consolidating or merging enterprise systems, our team is here to offer support and guidance. Experience top-notch IT consulting, recognized for its excellence. Collaborate closely with our industry-leading experts to safeguard the future of your enterprise.
We offer assistance in developing a technology strategy, demonstrating the path to achieving it, providing guidance on best practices, and ensuring compliance.
Our team is available for both in-person and virtual support, making it convenient to collaborate with us regardless of your location.
Comprehensive Coverage
Cost-effective Solutions
IT Support for SMEs and in-house teams
Managed IT Support
A well-implemented IT support plan is crucial for the success of any business. Our team of experts will serve as your dedicated partners in providing strategic IT support, customized to meet your specific requirements. We will oversee the management of your entire IT infrastructure and provide assistance to your users, allowing you to concentrate solely on achieving your business objectives.
Onsite IT Support
This package not only offers unlimited remote IT support from our in-house Service Desk, but also includes unlimited onsite engineering time. With our knowledge and guidance, it serves as a cost-effective alternative to maintaining your own IT team and managing HR.
IT Consultancy
Maximize the effectiveness of your business technology with our expert strategic guidance. Our IT consultancy services are designed to align your technology with the unique requirements of your business, unlocking its full potential.
Outsourced IT Support
Maintaining a productive and all-encompassing support system internally can be expensive and time-consuming. Moreover, there can be challenges related to staff absences and turnover. It makes sense to consider outsourcing some or all of your service desk IT support operations. Our outsourced solution offers a versatile selection of support services for businesses, such as 24/7 monitoring, remote and onsite assistance and more.
Ready to Upgrade Your IT Support Package?
Contact Us
Want to Upgrade Your IT Support Package?
At SEBS IT, we offer outstanding IT Support Packages built with businesses in mind. Our dependable IT Support will provide your business with the IT support services you need. Whether that's full support, remote support or just additional help for your in-house team, we have a solution that will work for you.
Our Full IT Support Package includes:
Unlimited calls to our help desk.
Network monitoring.
New technology advice.
Unlimited call-outs to your sites.
Account Manager.
Preferential project rates.
24/7 proactive monitoring.
Service reports.
Fixed monthly fee.
Calls answered by a call loggers.
Often need to escalate calls.
May use a lot of techno jargon.
Repeat the problem to other support staff.
Long response times.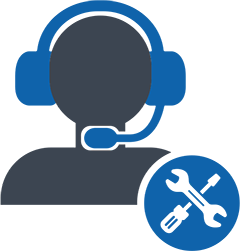 All calls answered by engineers.
Knowledgeable and helpful from the start.
Friendly, experienced and relatable.
Technical helpdesk staff can own the problem through to resolution.
Rapid solutions.
Our IT Support in Sussex covers all of West and East Sussex
Managed IT Support in the South East of England as well as Remote IT Support Services are what we do. Fully managed IT Support in areas including East and West Sussex , Hampshire and Kent
We've been providing an IT support service to companies in the South East for over 40 years now. Our IT Support company in Haywards Heath has a far reach – Covering not only local towns and cities such as Brighton & Hove, Haywards Heath, Burgess Hill and Crawley to slightly further afield including Eastbourne, Worthing, Henfield and Portsmouth
SEBS IT offer a wide range of totally managed IT Support and Remote support solutions to SMB's and mid-range businesses across the South East. As a Haywards Heath based IT support business we work with a variety of business sectors, including Architectural, Finance and Professional Services to name a few, we are well equipped to understand most industries.
We are highly thought of as an IT support company in Sussex, due to our emphasis on proactivity. From the very beginning of any IT Support agreement we are monitoring your network and are alerted of any issues before they affect the running of your business, monitoring also allows us to make proven recommendations based on your issues and business goals, As well as tweaking any IT plans you have, to accommodate any changes or developments that may have happened within your business.
SEBS IT provide exceptional solutions enabling you to concentrate on your business, Reliable and efficient IT Support is the keystone of any growing business, we work tirelessly to be the perfect IT Support company that every Sussex based business needs. As a company based in Sussex for over 40 years, we understand the pains and processes you go through daily
What other services do we offer?
MANAGED IT SERVICES
Managed services is our core business, and we offer proactive IT support to all sizes of businesses alike, From remote monitoring to break fix, our technicians will ensure you are up and running.
COMMUNICATIONS
Collaborate with our VOIP phone System, connectivity, internet, audio, and video conferencing solutions. With technical support from our help desk and guaranteed uptime.
CYBER SECURITY
We proactively protect your organisation from the inside out with our advanced managed security services. including remote monitoring and managed firewall. Outsource your IT Security.
DISASTER RECOVERY
We provide backup and disaster recovery services and solutions across the UK that can prevent downtime and enure business continuity, with cost effective data backup as a service.
CLOUD SERVICES
Cloud based solutions, such as Microsoft 365, cloud computing allows you to operate securely from anywhere, at any time with out the cost of your own data center.
IT CONSULTANCY
We partner with our clients to gain the experience to build an effective IT strategy, manage your business technology and provide a predictable helpdesk service level.
How can SEBS help my business become more efficient?
When your staff get interrupted by an IT issue productivity plummets. They want (and deserve) a fast and reliable resource to resolve their technical issues, no matter the size of their problem. We provide your staff with unlimited direct access to our team of IT experts as part of our Managed IT solution.
Feel as though you have an in-house enterprise IT department - without the costs.
How can you help protect my business against cyber attacks?
IT security applies to your entire system, network, and all of your data. To keep your IT systems safe, you need a robust cyber security strategy, we recommend using multiple layers of protection to keep your business secure, such as Two-Factor Authentication and Cyber Security Awareness Training to ensure a multi-pronged approach.
How easy is it to switch your IT support to SEBS?
Switching IT support providers may seem a daunting task, we understand this and will help you every step of the way. We'll make sure the switch is as seamless, hassle-free and speedy as possible!

In our experience, it's vital to understand the reasons you are moving IT support provider so we can make sure we target what is important to you.
---
Call us on 01444 416641 to get started or just have a chat about the options.
Switching Your IT Support
Moving your IT support needn't be stressful, we'll work with you every step of the way to ensure a smooth and hassle-free migration over to our services, ensuring all systems and licences are accoutanted for along the way.
IT Support & Services FAQ
IT support services are a team of technical experts that support, maintain and monitor your business over a contractual length of time. IT solutions design, install and implement systems, usually undertaken on a project based/short-term contract.