Need help remembering all your passwords?
Password management allows businesses to keep their passwords safely encrypted and encourage intelligent password choices, whilst further protecting against the risk of cyber attack

Keeper allows users to create random, high-strength passwords and store them in a secure vault using 256-bit AES encryption, accessible across all your devices, including PC, Mac, iOS & Android.

The UK National Cyber Security Centre has said it is 'virtually impossible for users to use unique passwords for all their accounts without software assistance. Making Password Management a critical part of any organisations Cyber Defense
Protect your organisation against cyber threats with zero-trust Enterprise Password Management (EPM).
From the data centre to the front office, Keeper delivers the ultimate in enterprise security and cyberthreat prevention. Protect access to applications, systems, IT resources and secrets with a zero-trust and zero-knowledge architecture.
Password Generator
Record-Level Encryption
Why do i need a Business Password Manager?
Password Generator
Keeper generates strong, unique passwords and automatically fills them into apps and websites for your employees.
Security Audit Score and Reporting
Keeper provides visibility of your password security with reporting and auditing tools to maintain internal controls and compliance.
Record-Level Encryption
Data is encrypted at the customer-device level using layered, record-level encryption to provide world-class protection for credentials, metadata and files.
Zero-Trust and Zero-Knowledge Security Architecture
Keeper Enterprise utilises best-in-class security with a zero-trust framework and zero-knowledge security architecture to safeguard your information and mitigate the risk of a data breach.
Version Control and Record History
Employees can access a full history of their records, view previous versions, see what changed and recover records at any time.
Private Vaults for Each Employee
Everyone gets a private vault to store and manage their passwords, files and private client data.
How Keeper can help your Business
With two-factor authentication and Biometric-enabled Master Passwords enabled, it would be near on impossible to gain access to online accounts with passwords generated and stored within Keeper. Even for the most experienced hackers with the world's fastest supercomputer, it would take over a million years to breach!
The Keeper central admin console allows SEBS IT, to distribute, manage and monitor Keeper across your entire organisation and enforce password security, MFA (multi-factor authorisation) and other data security policies.
These facts About Passwords Prove That Your "Password Protected" Data Isn't Safe.
Over 60% of people reuse passwords across multiple sites regularly..
An alarming 13% of people use the same password for all passworded accounts and devices.
81% of data breaches are found to be due to poor password security.
Although 91% of participants in a recent survey understand the risk of password reuse, 59% admitted to doing it anyway.
543 million employee credentials for Fortune 1000 companies are circulating on commonly used underground hacking forums, a whopping 29% increase from 2020.
Over 60% of employees use the same password across multiple work and home applications..
The average person reuses each password 14 times!.
An estimated 49% of employees only add a digit or change a character in their password when required to update it.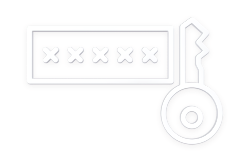 Features of our password management service:
An encrypted vault for every user, with folder functionality
Advanced activity reporting and an alerts module
Access from unlimited devices
Built-in, continuous security audits and enforcement
The ability to created shared team folders
Easy Email auto-provisioning
Multi-Factor Authentication
Password Management from Keeper
Military-Grade Encryption for Usernames and Passwords

Easy-to-Navigate UI with Password Generator and Security Audit

Easy Password Sharing with Keeper Chat

Export Your Login Credentials in Seconds

Available Across Desktops, Mobile Apps, and Web Browsers
Keeper licensing operates on a simple monthly subscription basis per user and is one of the world's top-rated solutions for mitigating password-related breaches and cyberthreats
Contact us Today to Learn more